Residential
Sullivan Sewer Services provides a full range of residential septic services:
Pump and inspect septic tanks
Repair septic lift pump
Septic compliance inspections
Terralifting and system rejuvenation
Sullivan Service will notify the city or county that your maintenance septic pumping has been completed to stop you from receiving more notifications. We will also handle any permits that are required.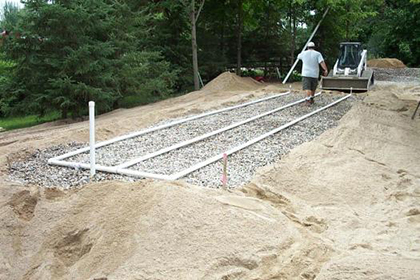 Commercial
Our commercial services includes all types of vacuum truck work:
Septic tanks
Grease traps
Flammable waste traps
Catch basins
Trench drains
Car washes
Lift stations
Sand pits
Manure pits
Wash out bins
Vaults & vessels
Food processing products
Ponds and Pits
Line cleaning
Confined spaces
Spills, floods and back-ups
Boat yards and barge
Filteration vessels
Parking ramps
Trench drain
Landscape rock

We also offer pipe jetting and pipe televising and locating.
Parking Garage Maintenance - Pressure Washing:
We have a specially designed low profile vacuum trailer unit to access underground parking ramps. Parking garage maintenance services include:
Pressure washing
Jetting
Televising lines
Pumping Services: catch basins, flammable waste traps, storm sewers
We can provide annual maintenance contracts or we can schedule on a per service basis.
Excavating
Sullivan Sewer Services provides excavating services for septic related excavating needs.
Pumping
State compliance inspections
Grading
Service connections and abandonment